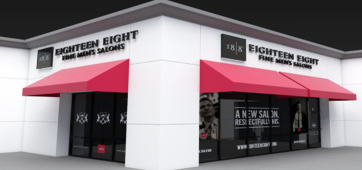 Does signage really matter in getting your business noticed?
Does signage really matter in getting your business noticed? What type of signage works best? When it comes to your business being seen and directing more traffic your way, a simple sign may speak a thousand words! The truth is, the sign that you have or possibly do not have yet, can determine your success by driving sales your way. Signs can, also, put you on the map for potential customers to know you even exist at all. A customer who needs your products/services will need to know just where to find you and what you have to offer. The best way to get started and get seen, is to know what types of signage is available to you.
What are the options for business signs?
Awning Signs
A businesses' goal is to create a safe and comfortable environment for customers. An Awning Sign does just that, these are classic signs used by businesses for years as they literally provide protection against the weather elements. A dry, safe place in the rain and shade in the sun. Contributing to a positive experience for your customer. Their popularity is also attributed to the opportunity to utilize color, space, and orientation. What is better than having your logo placed at the very fore front of your store, catching attention and directing foot traffic to your place of business instead of the competition! Also, a study by the American Society of Heating and Air has also reported the use of Awning Signs can reduce your energy bill by approximately 25% savings. They have proven to keep your store from heating up as quickly therefore maintaining a cooler store. The classic Awning Signs are a great option to be seen in a society that is used to tuning out signs!
Window Signs
You guessed it! These are signs that go into the window of your shop. Another Classic sign that has worked for years! These are not only advantageous to directing a customer to your store, they are also helpful for a potential customer to know where you can enter your store. Believe it or not, a simple notion yet helpful. Plus, a simple trick to enhance visibility is to add LED lights! 
Storm Mats
Storm Mats are a new trend which invites a patron into your store while assuring a safe entrance. Why not utilize the front mat of your store to catch attention for potential business? Every step counts!
Vehicle Magnets
A sign for your business does not always have to be in front of your store. A Vehicle Magnet is a great example of this. A magnet on your car promotes your business everywhere you go. Especially for those who have a long commute, why not take advantage of this time to turn heads and keep your business in front of potential clients regardless if you are in your store or cruising in your car. The Vehicle Magnets are super simple to apply and do not leave a residue or impression after removed. They serve as a great option for free visibility as your vehicles drive about the city.
Banners
Banners are great fun with so many opportunities and types to choose from. To name a few, you can choose retractable banners that can be placed outside as a street sign to promote a great discount or a sale that is going to get people flocking in. With Banners you can choose from all sizes and shapes. They can be hung from your storefront or from the street lights by choosing a Boulevard Banner. Banners make a statement and get your business seen.
Flags
If you really want to grab someone's attention, Flags will do the job well!
With movement from flapping in the wind, you create a visual and audio billboard that will announce your business and invite the stampede of new customers! Flags are unique in that they can be flown almost anywhere. Similar to Vehicle Magnets, Flags do not have to be at your storefront to create the magic. Fly your Logo from you house and introduce your business to all onlookers. If you have a boat, what a great way to represent your business on the water while enjoying a day in the fresh air! Like Banners, Flags come in all sizes, shapes and colors and they come in durable material that can serve as a sign to promote your business long-term. The process is simple. Just send over your logo or design ideas and a graphic designer will assist and place your artwork in a template and then.. there you go! 
You have a business flag!
Regardless of the industry you are in, signs can reflect your business' personality and create a Brand to customers by setting you apart from your competition. The more unique and creative you are, the more memorable your business will be and, after all, isn't that the idea? To be visible, to be seen, for the ultimate goal of bringing in more revenue.
Presented by Nautiflags. We specialize in Custom Boat Flags https://customboatflag.com/ and so much more!!
 Check out our products https://nautiflags.displaycity.com/ or contact us at (813) 401-4467 or kim@boatflag.me
...Let us Tell Yours!